Posts for: December, 2021
By Robert R. Watts DDS, PLLC
December 12, 2021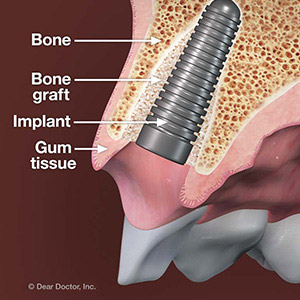 Upgrades can be exciting—moving on to a larger house, the latest smartphone, or maybe a new car. And, the same can apply with tooth replacements: Maybe you're ready now to upgrade your existing restoration to a dental implant, the most advanced tooth replacement method now available.
But you might encounter a speed bump in your plans: whether or not you have enough bone available for an implant. Here's why your bone may not be adequate.
Like any other cellular tissue, bone has a life cycle: older cells die and newer cells form to take their place. This process stays on track because of the forces generated when we chew, which stimulates new growth.
But that stimulus disappears when a tooth goes missing. This slows the bone growth cycle to the point that bone volume can gradually dwindle. You could in fact lose up to a quarter of bone width in just the first year after losing a tooth.
And, you'll need adequate bone to provide your implants with sufficient strength and stability, as well as the best possible appearance alongside your other teeth. If you don't have enough bone, we must either enhance its current volume or opt for a different restoration.
Fortunately, we may be able to do the former through bone augmentation or grafting. With this method, we place a graft of bone tissue in the area we wish to regenerate. The graft becomes a scaffold upon which new bone cells build upon. It's possible for grafting to produce up to 5 mm in additional width and 3 mm in height to supporting bone.
We can also use this method to prevent bone loss by placing a graft immediately following a tooth extraction. Some studies show the graft can help preserve bone up to 10 years, giving patients time to consider or prepare for a dental implant.
 There are circumstances, though, where bone loss has been too extensive to make up enough ground to place an implant. If so, there are other effective and life-like restorations to replace missing teeth. But there's still a good chance augmentation can restore the bone you need for a new smile with dental implants.
If you would like more information on dental implant restorations, please contact us or schedule an appointment for a consultation. You can also learn more about this topic by reading the Dear Doctor magazine article "Dental Implants After Previous Tooth Loss."
By Robert R. Watts DDS, PLLC
December 02, 2021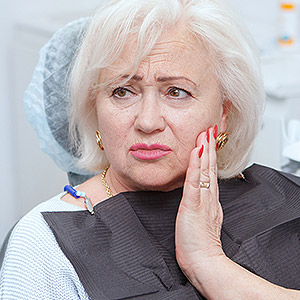 Although there are several potential problems people could encounter involving their teeth, gums or mouth, most fall into three basic categories. That's the finding of a recent survey conducted by the American Dental Association of more than 15,000 U.S. adults.
These categories are a triad of symptoms, each of which could arise from a variety of causes. If you're encountering any one of these, you should see your dentist as soon as possible.
Tooth pain. A toothache—or any form of pain from the mouth—could be sign of a number of possible issues. It could mean you have a decayed tooth, especially if the pain is sharp and localized. It could also indicate a gum abscess (accompanied by red and puffy gums), a sinus or ear infection, or inflammation of the jaw joints. The intensity, duration and location of the pain are all clues to its actual cause and what treatments it might require.
Biting difficulties. Does it hurt when you bite down? Among other things, you could have a loose tooth or one that's deeply decayed. The former could be the sign of advanced gum disease, which itself must be treated and the tooth stabilized (splinted) to other teeth. If the problem is advanced decay, you may need a root canal to remove diseased tissue from within the interior of the tooth, which is then filled and crowned to prevent re-infection.
Dry mouth. We're not talking about that "cotton mouth" feeling we all get now and then. This is a chronic condition known as xerostomia in which the mouth feels dry all the time. Xerostomia has several causes including smoking or treatments for cancer or other serious diseases. It might also be a medication you're taking, which has reduced your mouth's saliva production. Because dry mouth could lead to dental disease, you should take steps to relieve it.
Even if you're not having symptoms like these, there may still be something going on in your mouth that needs attention. That's why you should see your dentist on a regular basis, besides when you notice a problem, to keep your oral health in tip-top shape.
If you would like more information on potential teeth and gum problems, please contact us or schedule an appointment for a consultation.