Posts for tag: dental implants
By Robert R. Watts DDS, PLLC
December 12, 2021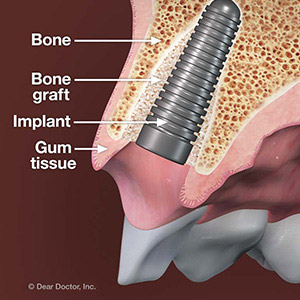 Upgrades can be exciting—moving on to a larger house, the latest smartphone, or maybe a new car. And, the same can apply with tooth replacements: Maybe you're ready now to upgrade your existing restoration to a dental implant, the most advanced tooth replacement method now available.
But you might encounter a speed bump in your plans: whether or not you have enough bone available for an implant. Here's why your bone may not be adequate.
Like any other cellular tissue, bone has a life cycle: older cells die and newer cells form to take their place. This process stays on track because of the forces generated when we chew, which stimulates new growth.
But that stimulus disappears when a tooth goes missing. This slows the bone growth cycle to the point that bone volume can gradually dwindle. You could in fact lose up to a quarter of bone width in just the first year after losing a tooth.
And, you'll need adequate bone to provide your implants with sufficient strength and stability, as well as the best possible appearance alongside your other teeth. If you don't have enough bone, we must either enhance its current volume or opt for a different restoration.
Fortunately, we may be able to do the former through bone augmentation or grafting. With this method, we place a graft of bone tissue in the area we wish to regenerate. The graft becomes a scaffold upon which new bone cells build upon. It's possible for grafting to produce up to 5 mm in additional width and 3 mm in height to supporting bone.
We can also use this method to prevent bone loss by placing a graft immediately following a tooth extraction. Some studies show the graft can help preserve bone up to 10 years, giving patients time to consider or prepare for a dental implant.
 There are circumstances, though, where bone loss has been too extensive to make up enough ground to place an implant. If so, there are other effective and life-like restorations to replace missing teeth. But there's still a good chance augmentation can restore the bone you need for a new smile with dental implants.
If you would like more information on dental implant restorations, please contact us or schedule an appointment for a consultation. You can also learn more about this topic by reading the Dear Doctor magazine article "Dental Implants After Previous Tooth Loss."
By Robert R. Watts DDS, PLLC
July 15, 2021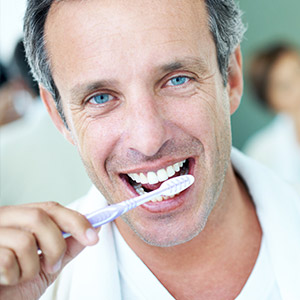 Your teeth can take decades of daily biting and chewing and not miss a beat. But they do have a nemesis, dental disease, which can easily get the upper hand. As a result, millions of people lose teeth each year to tooth decay and periodontal (gum) disease.
But while both the living tissue that makes up teeth and gums are susceptible to bacterial attack, the non-living materials in a life-like dental implant are impervious to disease. That being the case, you would think your implants wouldn't need as much hygiene as your other teeth.
But they still do. True, implants in themselves aren't affected by infection, but the bone and other tissues that support them can become diseased. This often happens with advanced cases of gum disease.
There is, in fact, a particular form of gum infection associated with implants called peri-implantitis ("peri"—around; "it is"—inflammation), which occurs in the gums around an implant. Once it starts, peri-implantitis can advance at a rapid pace.
This is because implants don't have the gum attachment of real teeth, which can fight and slow the advance of a gum infection. Because an implant doesn't have this attachment, any infection around it continues virtually unimpeded. If the bone supporting an implant becomes infected, it can weaken to the point that the implant fails.
But this dire scenario can be avoided with continuing hygiene and maintenance of the gum tissues surrounding the implant. You should brush and floss every day around implants to remove dental plaque, the bacterial film most responsible for dental disease, just as you do with natural teeth.
It's also important to keep up regular dental visits for cleanings to remove lingering plaque and tartar (hardened plaque). Your dentist may also notice and clean away any residual cement from the restoration, which can also cause gum inflammation.
And, you should promptly see your dentist if you notice any telltale signs of a gum infection, such as swelling, redness or bleeding, especially around implants. The quicker we diagnose and treat a case of gum disease, particularly peri-implantitis, the less likely it will endanger your implant.
If you would like more information on maintaining dental implant restorations, please contact us or schedule an appointment for a consultation.